I've Launched a Few Rockets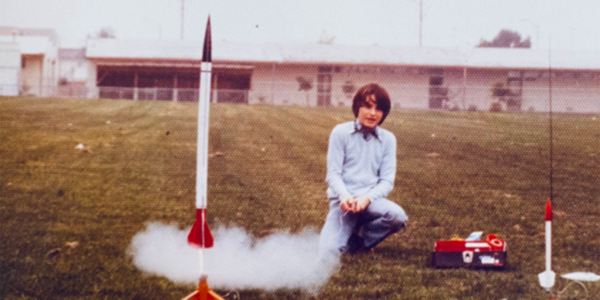 Lemme catch you up to speed. At the age of twelve, my friend Steve got me hooked on model rockets. We had a blast building rockets and shooting them off, sometimes not in any particularly safety-conscious manner if I were entirely honest.
I would buy and built Estes kits, but also design my own scratch-built rockets, determining their stability by running through the Barrowman equations by hand. It seems like I took a lot of notes when I was a kid, but only for the more memorable launches. Not all of my outings were recorded, and even then, some notes were along the lines of "8 flights. First seven made it," followed by a recap of what happened on that last unsuccessful launch of the day. Would've been a lot nicer if I had listed the successes, too, not just the failures; but failure can be a lot more memorable (and sometimes far more fun).
1979-04-01
Launched my first rocket, an Estes Icarus (#1) and a Quasar (#2). I still have the Icarus and have even launched it recently. The Quasar was lost long ago in an unrecorded fog of outings.
1979-11-18
Launched my Mosquito twice to be recovered both times – but apparently, I broke one of the fins on the way home, never to fly again.
1979-12-09
Launched my Icarus (but broke a fin), Black Brant III, Sky Raider, and a scratch-built rocket I had called the "Epsilon." Apparently, this is the day Steve and I launched a big frog in his two-stage D-powered Estes Omega. The Frognaut was equipped with a home-made taped-on parachute harness, ejected at apogee, floated down to be recovered unharmed, and then released. He had, however, peed in the interior of the rocket on his way out.
1979-12-26
Launched my trusty Icarus in Colusa, CA, on a windy day. Broke a find on landing – apparently a trend with my poor Icarus. Afterwards I apparently pulled off the remaining fins, made and attached new ones, and fully repainted the rocket.
1980-01-27
Had eight launches, but didn't list every one, unfortunately. This launch was down in Silicon Valley with my Uncle Greg and some of his friends. I launched my Sprint and most notably, my Omega – which had a glitch on stage separation and the upper stage went horizontal, taking off over the school buildings where we were launching. I found the rocket pretty banged up in the parking lot on the other side, but ultimately repaired it with a new nose cone and about an inch and a half of scrunched body tube cut off from the front – which I believe I still have in a box somewhere.
1980-02-09
Launched my Astrocam 110 at the local elementary school, Arlington Heights. But the booster broke free of the camera and landed [hard] in a very irate neighbor's back yard. I never did get the photos developed….
1980-03-09
Launched a scratch-built rocket named "Vector" on the gravelly banks of the American River. Apparently, it nosed it into the ground.
1980-04-13
Launched my Mars Snooper II, Satellite Interceptor, Gyroc, and Astrocam 110. I also launched my Honest John but was so worried about the scotch-taped fin I had broken off on the way there that I forgot to attach the nose cone to the shock cord - and subsequently lost it. I still have that booster; I should get a new nose cone for it.
1980-07-20
Launched my Space Shuttle! Not the best-performing rocket or glider I ever launched. It had tainted my desire for launching boost-gliders for many, many years after.
1980-11-30
Went with Steve and launched a bunch of random rockets, including my "Junk II" rocket made from leftover parts and remnants from other crashed rockets.
1982-something
I didn't record the actual date, but I had noted later that I had launched my Sandhawk and watched the nose and payload section gently drift away to the next county and parts unknown. I decided the recovered booster would become my new Astrocam 110 launch vehicle.
[Long period of no notes or recordings. I won't count the time I shoved a rocket motor into a stuffed Smurf and set off inside my dorm's bathroom as a "launch."]
1997-08-03
Went to my first organized club launch in Monroe, WA. I launched my Broadsword twice (D12-5 and E30-7T), and my Big Bertha once on a C6-3.
1997-08-16
Launch at 60-Acre Park in Redmond, WA. Broadsword on D12-5, Big Bertha on C6-7, my Sandhawk booster lifted the Astrocam 110 payload on a D12-7, and a scratch-built rocket dubbed "The Whistler" on B6-6, A8-3, C6-3, and B6-6. The Whistler had four fins with those little plastic cylindrical whistles that are really loud when blown through. Not as cool as I thought it would be.
1998-01-11
The Whistler again on a B6-4. Sandhawk/Astrocam 110 combo on a D12-7. Broadsword twice on D12-5 and D12-3 – the latter of which I had noted that ejection was right at apogee. I launched the Whistler again, but this time I attempted a CHAD-staging effect where I taped a D12-0 to the bottom of the C6-7. I used too much tape, because the D-engine didn't pop off after the C ignited, and it just sort of tumbled from the lost thrust due to the Krushnic effect. Undaunted, I tried again with a lot less tape, but the flight was recorded as "unstable" and broke all the whistles off the fins in a crash landing. Then I flew the Broadsword twice more: on another "perfect" D12-3, and then with my first reloaded motor, a D9-4W.
2000-08-24
Big Bertha on a B6-4, Broadsword on a D12-5, Check-6 (my first phenolic body with fiberglass fins kit) on a D12-5, Scout on an A8-3, Fat Boy on a B6-4, and Mosquito on an A3-4T. The Mosquito vanished on take-off, but we walked around a bit and found it and the missing nose cone from the Check-6.
2013-09-14
The first time I took Riley with me to launch rockets at 60-Acres Park in Redmond, WA. We launched:
Sky Writer on a B6-4
Broadsword on a D12-3
Sky Writer again on a C6-5
Broadsword again on a D12-5
Sky Writer on a B6-4
Broadsword on a D12-5 – but this time it pranged HARD and severely crushed the body tube real good. Eventually (seven years later) I would repair it into a Soyuz-themed rocket with a few 3D-printed parts.
Apparently, I flew the Broadsword again on a D12-5??? With it all bus'-up? Interesting….
Finally, I flew the Sky Writer again three more times on C6-7s.
2013-09-21
The last time I launched in Washington was at 60-Acres again. I sent up:
Der Red Max on a B6-4
Sky Writer on a B6-4
A repaired Whistler on an A8-3, but the whistles blew off again
A scratch-built rocket that was lost to a tree on a C6-5
Mars Snooper II on C6-3
Sea Strike D twice – both times on a C11-0/D12-7 pair. On the second flight, the booster didn't separate, and the upper stage scorched a few holes through the booster body.
A Mosquito on an ½A3-2T – and got it back!
Fat Boy on a D12-5
Bulldog on a C6-3
A small scratch-built on a ½A3-2T
The Sea Strike D again, despite the damaged booster, on a D12-0/D12-7 combo
A Quest with a Scorpion booster, a C6-0/C6-7 pair. Apparently, the Quest disappeared into the ether never to be seen again by human eyes.
2021-05-30
First launch in Hawaii, at the Sandy Beach Park!
Sent up the repaired Broadsword reimagined as a Soyuz-themed rocket using some 3D-printed parts, on an E12-6. Not entirely unexpected, the rather fragile escape tower broke in two places, with the tip embedded into the soil and unrecovered. But the interstage truss remained intact!
Mercury Redstone with a 3D-printed "stunt capsule" (since the cats broke my meticulously assembled actual capsule/escape tower) on a C6-5. Probably should've been a C6-3. Broke one of the fins.
Icarus! My 42-year-old first rocket flew great on a C6-3 with a FlightSketch altimeter in the payload section (650 feet).
A scratch-built, fully 3D-printed short rocket that Riley hydro-dipped, on a D12-5.
Mars Snooper II on a B6-4. I used a streamer, and it came down a little hard on its dowel landing gear and snapped one off. I think I'll finally retire this oldie-but-goodie.
A scratch-built, fully 3D-printed long rocket Riley also hydro-dipped, on a D12-5. I had used PLA for both rockets, and when I recovered this one, the body was noticeably pliable from the heat. ABS for the next one!
2021-05-31
This time at the Waipahu District Park.
Condor boost glider on an A8-3. Unfortunately, I didn't adequately pin the launch system wires away from the glider, it caught on them, and just flopped back to the ground a couple feet in front of me, damaging the rear fin.
Astrocam (digital) on a B6-4, followed by a C6-5. The latter landed across a stream in a fenced-in parking lot. After the launch I had to jump a chain-link fence to get it. The kicker: I hadn't properly activated the camera's record functionality after turning it on, so NO VIDEO!
A scratch-built red and purple rocket on a B6-4.
My Icarus again on a B6-4 with a FlightSketch altimeter (322 feet).
A scratch-built, long orange rocket on a C6-5. The paint was a little bubbled near the motor after recovery.
Air Walker on a C6-3 (with a plastic baby in the clear payload section that Steve must've hidden in there many, many years ago).
Bulldog on a C6-3
Big Bertha CATO'd on a C6-7. Blasted the forward motor tube centering ring from the body, and the motor tube from the rear centering ring, so it slid aft when I tried removing the motor. Will repair.
Sky Writer on a C6-3
Athena on a C6-7. This is a rocket I found at 60-Acres in Redmond. It took off and landed on the other side of a row of Monkeypod trees, across the street, and in some bushes in front of an apartment building. But I got it back!
Tried the Condor again on an A8-3, and it flew beautifully despite the damage. On the gliding return it even seemed to hover in place for a few seconds at one point.
Flew the scratch red and purple again, on a B6-4.